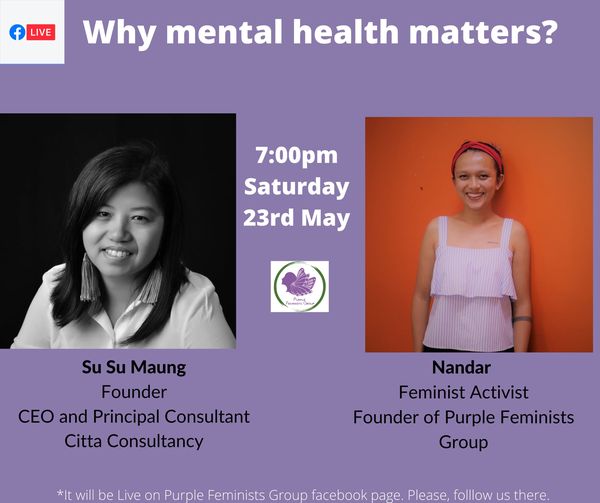 "Mental Health" Webinar will be streamed LIVE on Purple Feminists Group's official Facebook Page. The LIVE webinar will be discussed by Ma Su Su Maung, CEP and Principal Consultant of Citta Consultancy and host by Nandar (Founder and Director of Purple Feminists Group). 
Sayama Su Su Maung Bio, 
Su Maung is the Founder, CEO, and Principal Consultant. She is a Licensed Marriage and Family Therapist, Board Certified Tele-Mental Health Provider, and a Certified Mental Health Integrative Medicine Provider. She has an MA in Counseling Psychology, a BA in Psychology, a Post-Graduate Advanced Training Certificate in Psychodynamic Psychotherapy, a Specialized Certificate in Online Teaching and a Certificate in Social Sector Leadership. She was a faculty and clinical supervisor at Myanmar Clinical Psychology Consortium and an instructor of Psychology at the Academy of Art University in San Francisco. Having intimate knowledge and lived experiences of various cultures, and being multilingual in English, Burmese and Mandarin, she is skilled as a cultural and relational broker for organizations and communities developing human and social capital in a changing world. Her professional interests are in complex trauma and attachment issues, collective and intergenerational trauma, cross-cultural issues, life transitions, loss and grief, organizational therapy, couple and family therapy, early prevention community mental health, creativity, learning and motivation, identity development, women's issues and feminism, human sexuality, and LGBTQ issues.
The webinar will be LIVE on 23rd May, 2021 7:00pm (Myanmar Time).
Purple Feminists Group Facebook >> Purple Feminist Group