MENTAL HEALTH UNDER THE COUP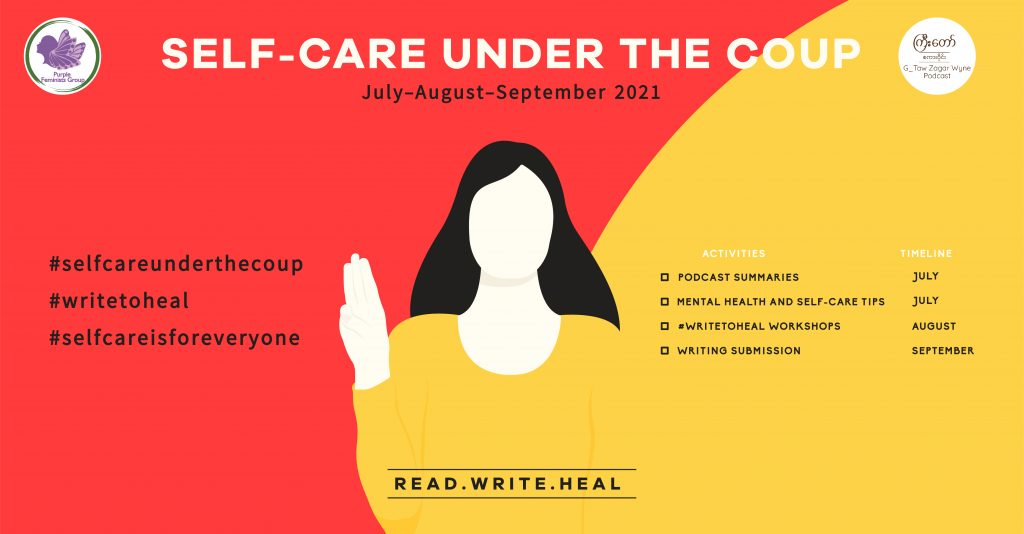 Self-Care Under The Coup Campaign is designed and organized by Purple Feminist Group to promote mental health awareness among the people of Myanmar during the crisis. The campaign was launched through Purple Feminists Group's official channels on 1st July 2021. The campaign period is 3 months: July-August-September 2021. Activities include: publishing Mental Health Podcast Summaries, sharing Self-Care Tips, organizing #WriteToHeal virtual workshops, and opening for Writing Competition at the end of the campaign.
#MenstruationIsNotShameful #PeriodisPowerful #DiginifiedMenstruation

PODCAST : MENTAL HEALTH UNDER THE COUP
"Season2: Mental Health Under The Coup" was produced to discuss how our mental health deteriorated under the coup in Myanmar and how we can deal with it. It is published as part of the G-Taw Zagar Wyne Podcast. A total number of 5 episodes were published and each episode was discussed by Psychologist Gabriella Phyu, who studied Clinical Psychology and is currently working in Australia.
#selfcareunderthecoupcampaign
#writetoheal
#purplefeministsgroup
MENTAL HEALTH AND SELF-CARE TIPS
#WRITETOHEAL WORKSHOPS
"Write To Heal" workshop series was organized during the second and third months of the campaign. The whole workshop series was run virtually on ZOOM Online Meeting Platform. There were 3 workshops hosted by 3 different experienced writers to share different methods of writing to heal and take care of mental health during the crisis. Workshops were virtually run through 3 consecutive weeks on every Saturdays on 21s and 28th of August and 4th of September, 2021. Total number of 49 people registered to attend and each workshop was occupied with an average of 25 numbers of attendees in each workshop.
We had experienced the amazing energy and active participation from the audience. Everyone was willing to learn and share their own experiences and stories with everybody in the virtual meeting room. Furthermore, more than 90% of the attendees were able to connect with each other and stay as part of Purple Feminists Group's close group community to inclusively contribute and participate in our upcoming activities.
WRITING COMPETITION
Writing Competition is open to the public and specially invited to the participants of #WriteToHeal Workshops. The competition was officially opened on the 7th of September, 2021, and submissions were accepted until the 30th of September. Every participant can share their essay writings, poem writings, or artwork created under the title of "Mental Health Experiences Under The Coup".