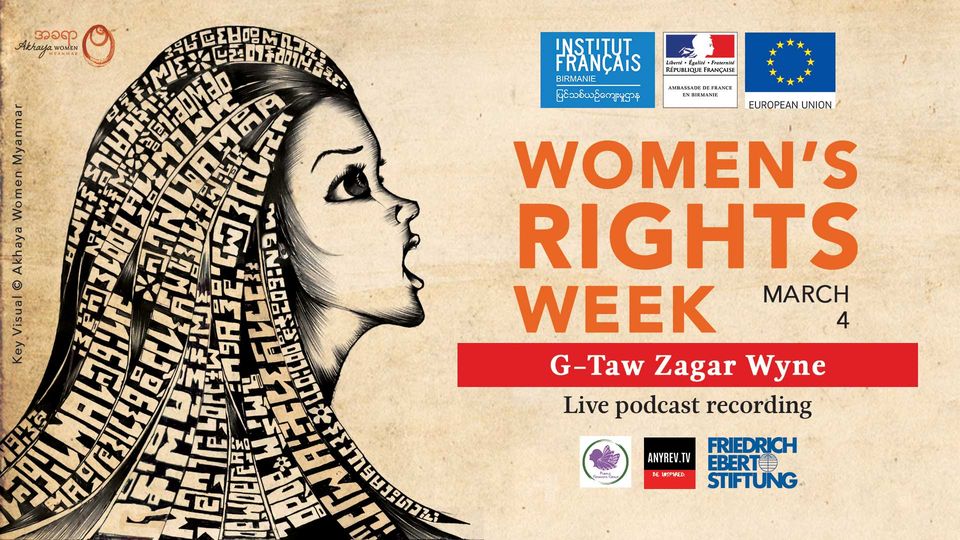 The first ever live podcast recording in Myanmar!
Feminist activist Nandar from Purple Feminists Group will explore what consent is and means in Myanmar with special guest Win Min Than. The discussions will be recorded live!
In Myanmar language with simultaneous interpretation into English.
With the support of Any Rev TV and in partnership with the EU Delegation to Myanmar.
Why host a podcast recording show?
A podcast live recording is an interactive, informative and exciting event, which aims at capturing live audience reactions as the podcast is being recorded.
Podcasting live helps create an organic conversation between the audience and the host. A live show gives listeners the chance to actually see the conversation unfold before them and even influence a show.
Purple Feminists Group is a local grassroots organization founded in 2018 with the following purposes: to raise awareness on gender based violence, to challenge menstrual taboos, to contextualize feminist literature, to amplify women and girls' voices through podcast and writing.
The aim of the podcast G-Taw Zagar Wyne is to generate and promote a community-led space that brings together women, as well as men, to talk about themes related to feminism and the female body in Myanmar.
This project will raise women's voices and inspire social and cultural change in how we address women's sexuality and violence against women.
Listen to the podcast here: https://soundcloud.com/g-taw-zagar-wyne-podcast
G-Taw Zagar Wyne (Live podcast recording)
March 4 (Wednesday) | 6pm – 7:30 pm
Institut français de Birmanie
Free Entry